近日,帕诺迩Moon Shadow Ceiling Light月影系列 LED智能吸顶灯凭借其出色的外观设计和创新功能设计获得了素有"东方设计奥斯卡奖"之称的日本G-Mark设计奖(Good Design Award)。

Recently, PANNELLO Moon Shadow Ceiling Light series LED intelligent ceiling lamp won the Japanese G-Mark Design Award, known as the "Oscar for Oriental Design" for its excellent appearance design and innovative function design.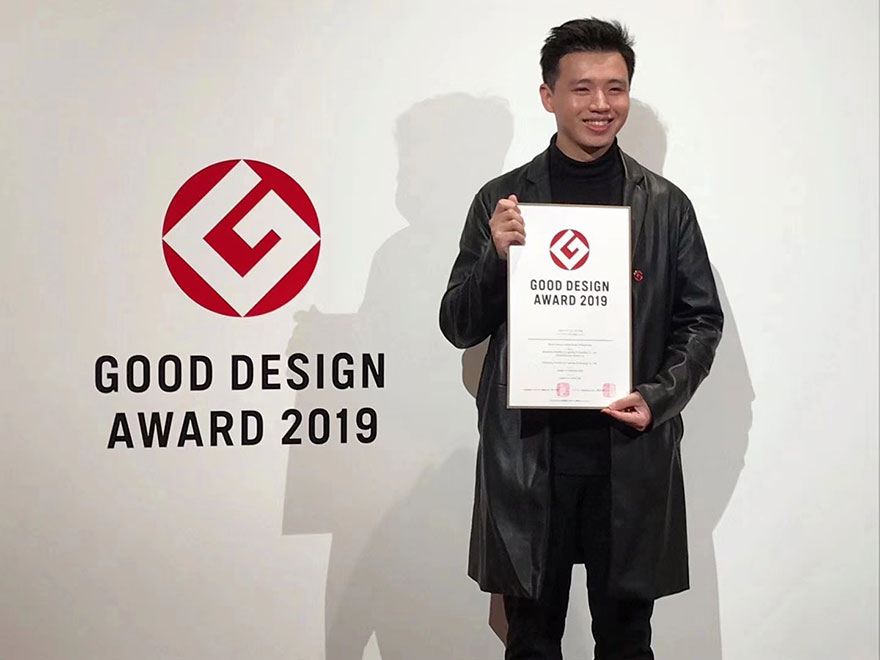 日本G-Mark设计奖(Good Design Award)由日本国际贸易与工业部(Ministry of International Trade and Industry)于1957年设立,它也是亚洲地区最具权威性及影响力的设计奖项,素有"东方设计奥斯卡奖"之称。每年约有1000多家企业的3000件产品参评G-Mark设计奖。获奖作品被授予G-Mark标志,这是其高品质和易用的象征。是日本国内唯一综合性的设计评价与推荐制度,通称为G-mark,中文称之为日本优良设计大奖。

Japan's G-Mark Design Award, established in 1957 by the Ministry of International Trade and Industry, is also the most authoritative and influential Design Award in Asia, known as the "Oscar for Oriental Design". Every year, about 3000 products from more than 1000 enterprises participate in the G-Mark Design Award. The award-winning work was awarded the G-Mark logo, which is a symbol of its high quality and ease of use. It is the only comprehensive design evaluation and recommendation system in Japan, commonly known as G-mark, and in Chinese as the Japanese Excellent Design Award.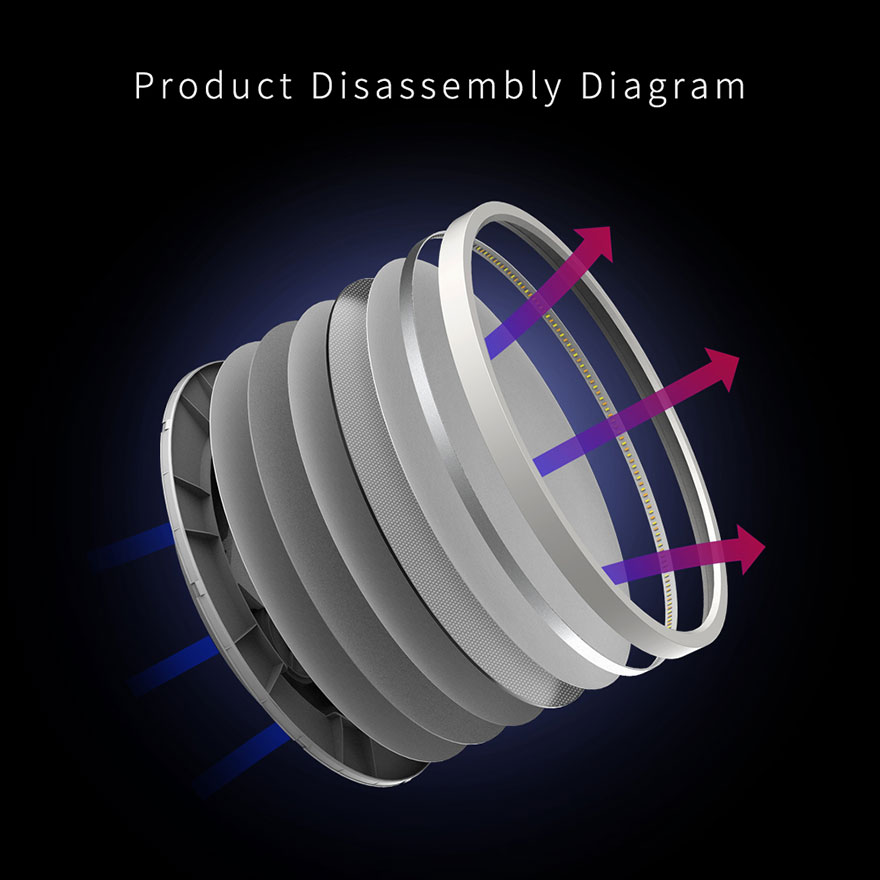 日本优良设计大奖不仅重视产品造型语言,更强调消费者使用经验与产品便利性的创新与突破,凡是获得[G]标志的产品,即代表设计和质量的双重保证。G-Mark是"魅力设计"和"高贵品质"的代名词,只有在设计、质量、美观、性能、安全、独特、使用方便性、人体工学、性价比等多领域表现卓越绝伦的产品,才能通过多国评委的严苛眼光,才有资格获得G-Mark标志。

Japanese excellent design award not only attaches importance to product modeling language, but also emphasizes innovation and breakthrough of consumer experience and product convenience. All products with the [g] logo represent double guarantee of design and quality. G-Mark is the synonym of "glamour design" and "noble quality". Only products with outstanding performance in design, quality, beauty, performance, safety, uniqueness, ease of use, ergonomics, cost-effective ratio and other fields can pass the rigorous vision of multi-national judges and qualify for the G-Mark logo.

优良设计大奖评选标准包括:产品本身的美观、安全性、原创性、吸引力、是否考虑到消费者想法与需求、是否符合使用环境、价值是否符合定价、是否有很好的功能与效能表现、是否符合使用者友善的设计等。

The selection criteria of the Grand Prize for Excellent Design include: beauty, safety, originality, attractiveness of the product itself, consideration of consumers'ideas and needs, conformity to the use environment, conformity of value to pricing, good performance of function and effectiveness, conformity to user-friendly design, etc.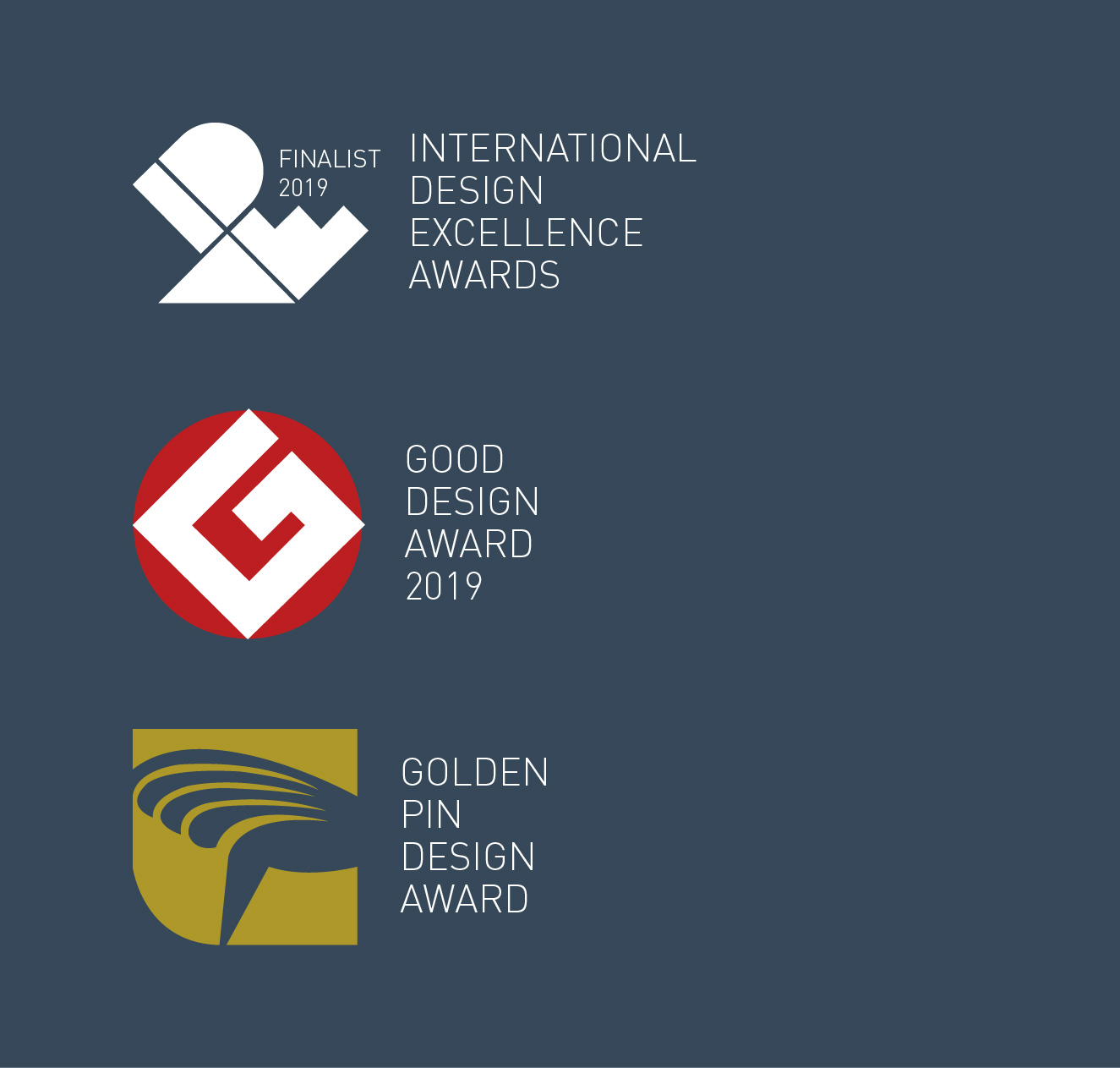 2019年帕诺迩Moon Shadow Ceiling Light月影系列 LED智能吸顶灯以其出色的创新外观和设计理念连续获得了美国IDEA2019 Finalist设计大奖、台湾金点奖。至此,已经陆续获得3项国际设计大奖,并取得多项技术专利。涉及外观、灯体、安装座、插座、插针。

In 2019, PANNELLO Moon Shadow Ceiling Light series LED intelligent ceiling lamp won IDEA Finalist Design Award and Taiwan Golden Prize for its outstanding innovative appearance and design concept. So far, three international design awards have been awarded and many technical patents have been obtained. It involves appearance, lamp body, mounting base, socket and pin.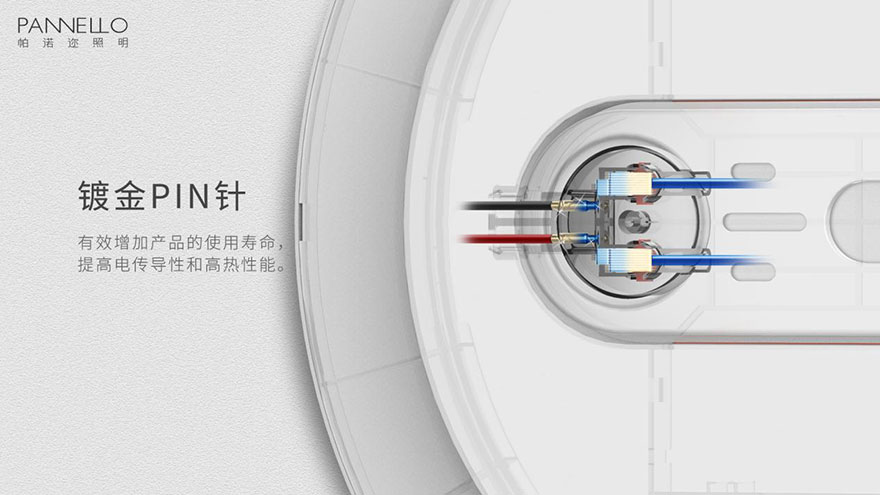 帕诺迩,践行中国制造2025

PANNELLO, Practice Made in China 2025

过去30年整体中国的制造业普遍都是OEM身份,越来越多海外购回中出现中国制造,全球85%以上的LED产品来自中国。泽润光电集团作为帕诺迩的母公司,在LED行业里面已经深耕近20年,多年来坚持自主研发,持续的寻求技术突破,产品远销海外市场。并于2019年新三板挂牌上市(代码873210)。

Over the past 30 years, China's manufacturing industry as a whole has generally been OEM status. More and more overseas repurchases are made in China. More than 85% of the global LED products come from China. Zerun Optoelectronic Group, as Panoru's parent company, has been deeply engaged in the LED industry for nearly 20 years. Over the years, it has insisted on independent research and development, continued to seek technological breakthroughs, and its products are exported to overseas markets. And in 2019, the new three-board listing (code 873210).

帕诺迩PANNELLO自建立之初就秉承着以用户需求为中心的理念,秉持工业4.0概念&中国制造2025,将制造业向智能化转型。 不断深挖核心用户的内心,情感诉求点,真正了解用户。突破传统的工业化设计,将文化、情感等元素融入至产品中去,让每一款产品富有生命力。

Since its inception, PANNELLO has been adhering to the concept of user-centered demand, adhering to the concept of industrial 4.0 - Made in China 2025, and transforming the manufacturing industry into an intelligent one. Keep digging deep into the core users'hearts, emotional appeal points, and really understand users. Breakthrough the traditional industrial design, incorporate cultural, emotional and other elements into products, so that each product is full of vitality.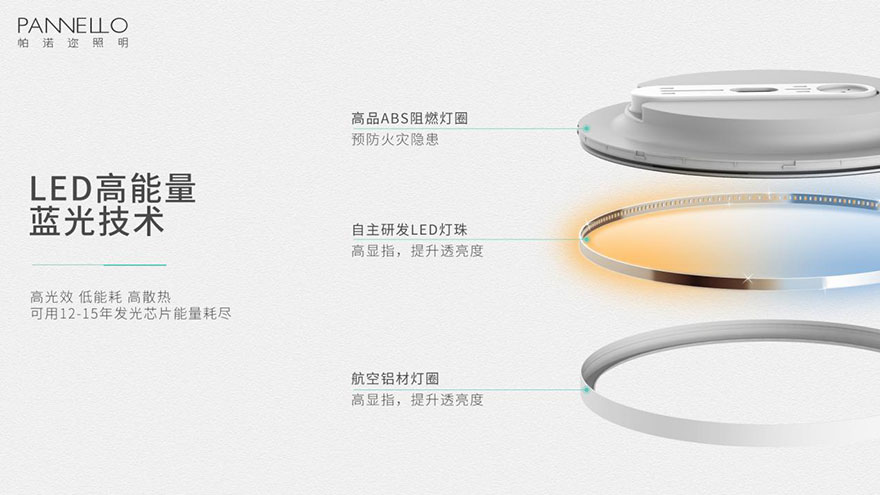 怎样的设计是一件好设计?
What kind of design is a good design?

从四个方面的质量看,功能性、美观性(让使用者喜欢)、实用性(方便好用)和责任感。不仅是对于自然的责任感,还有对于社会的责任感。好的产品会自己说话。

From four aspects of quality, functionality, aesthetics (user like), practicality (easy to use) and sense of responsibility. It is not only a sense of responsibility for nature, but also for society. Good products speak for themselves.

1、"微创"版安装方式
1. Installation of "Minimally Invasive" Edition

为使用者消除困扰已久的痛点,之前的灯具安装过后给墙面和屋顶造成多处洞孔伤害。帕诺迩设计团队针对消费者这一诉求进行研讨设计出"微创"版安装方式,最大程度减少了墙面创伤。
In order to eliminate the long-troubled pain points for users, many holes were damaged on the walls and roofs after the previous lamps were installed. Panoray's design team discussed and designed a "minimally invasive" version of the installation method to minimize wall trauma.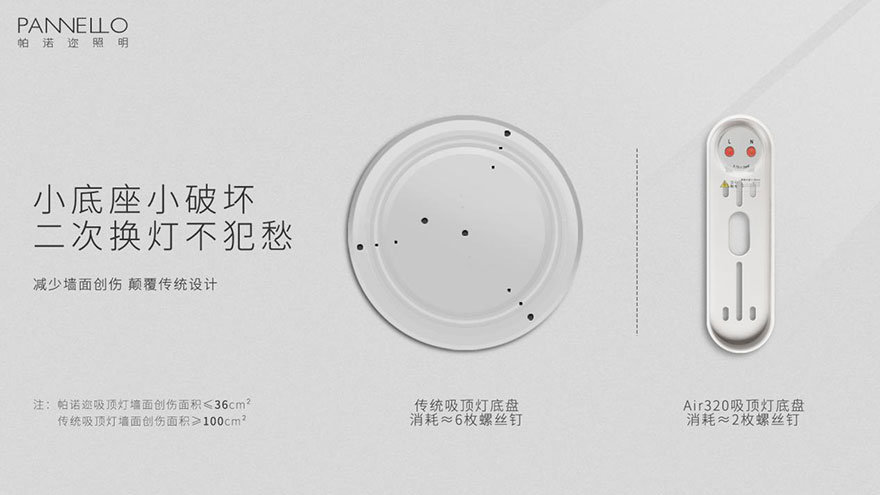 2、30S轻松搞定安装 省心省时

2. 30S Easy Installation and Time-saving

一直以来灯具的安装被消费者习惯性觉得和装修一样费事儿,费心又费时。帕诺迩月影系列吸顶灯通过工业设计创新以及科技创新实现产品的安装便捷、智能操控,为每一位用户着想,让装灯变得比使用微波炉还简单。
The installation of lamps and lanterns has been customarily felt by consumers as laborious and time-consuming as decoration. Through industrial design innovation and technological innovation, Panoray Moonshadow series ceiling lamp can be installed conveniently and intelligently. For every user's sake, it is simpler to load the lamp than to use the microwave oven.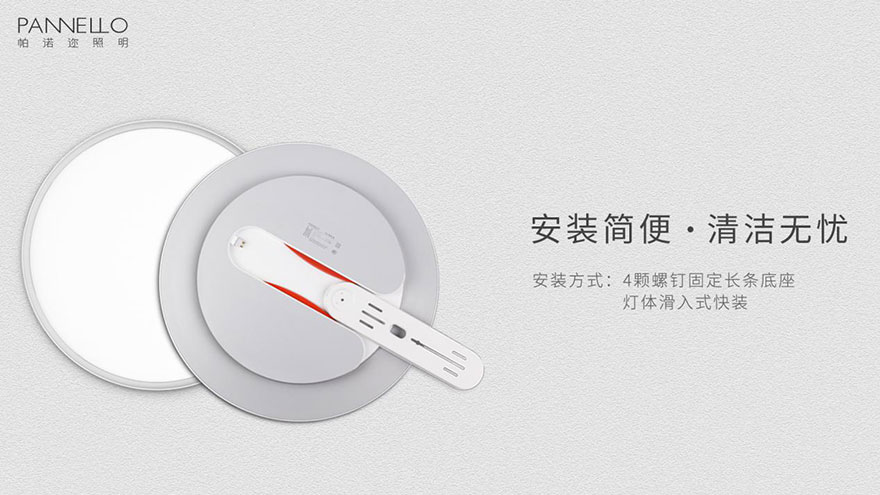 3、超薄智能灯体设计、为新居住空间而生

3. Ultra-thin Intelligent Lighting Body Design for New Residential Space

过去30年中国的城市化率达到50%左右,从乡镇转入城市生活的人口达到6亿左右。消费主力军从6070已经过渡到8090后,随着当代中国消费人群的变迁带来的居住空间的变迁,新的居住空间过去传统的照明产品似乎已经无法满足新一代人类的居住空间需求。居住空间从"宽敞"到"小空间"。
In the past 30 years, China's urbanization rate has reached about 50%, and the number of people who have moved from villages and towns to urban life has reached about 600 million. The main consumer force has transited from 6070 to 8090. With the changes of living space brought by the changes of contemporary Chinese consumers, the traditional lighting products of the new living space in the past seem unable to meet the needs of the new generation of human living space. Residential space from "spacious" to "small space".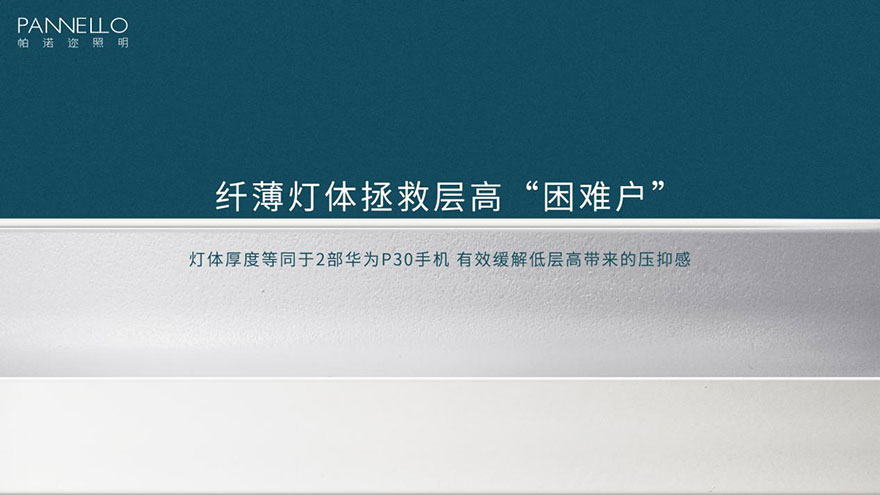 "设计不为设计"那么,设计是为了什么?
"Design is not design", then, what is the purpose of design?

帕诺迩工业设计团队:设计不是为设计者存在的,它是为了使用者,这中间的差别很大。一个问题是,许多时候,当设计师给出解决方案的时候,他们发现,他们并不是给出问题的人。关注给出问题的人也就是我们的用户,关注他们的痛点诉求,怀着"以人为本"的设计初心同时结合现代美学给到用户最极致的观感和体验是我们团队的使命。

PANNELLO Industrial Design Team: Design is not for designers, it is for users, which is very different. One problem is that many times, when designers give solutions, they find that they are not the ones who give them. It is our team's mission to pay attention to the painful demands of our users, to give users the most extreme feeling and experience with the "people-oriented" design initiative combined with modern aesthetics at the same time.

这是艺术与设计的不同之处。艺术家总是自己给出最后的解决方式(问题的制造者和解决者都是他),但设计师终将还是是面向客户的,是为他人提供解决方案,设计师不能获得百分之百的自由。最终的解决方案并不是最佳的解决方案,这是兼顾了实用性、市场等多方面综合而成的,设计不是为了设计师而作,是为了使用和使用它的人而作。帕诺迩的工业设计团队会坚持这个初心和原则为人们的日常生活带来更多有使用价值并兼具美学的产品。
This is the difference between art and design. The artist always gives the final solution by himself (the maker and the solver of the problem are him), but the designer will always be customer-oriented and provide solutions for others. The designer can not get 100% freedom. The final solution is not the best solution. It is a combination of practicability, market and other aspects. Design is not for designers, but for people who use and use it. Panoray's industrial design team will adhere to this initiative and principle to bring more useful and aesthetic products to people's daily life.